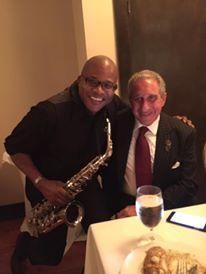 Multi-Instrumentalist 
Alto, Soprano, & Tenor Saxophones -
Flute & Alto Flutes -
Aerophone Pro & EWI - Electric Wind Instrument
CALL FOR BOOKING as a Soloist or with any size band  
770/843-4075  
How to Book:
1.  Call, Text, or Email (HotSaxSauce@gmail.com) to see if your date is available
2.  Send $50 Deposit to secure the date of your event -
 Cashapp = $DavidSolomonMorrow;
Venmo = @SolomonMorrow
Zelle = David Solomon Morrow
3. Download & Fill out Music Agreement
   (click here to download the Music Agreement): /files/1036297/e-contract-2020.docx
4. Send the Signed Music Agreement back to me
5.  Received the Signed by me Music Agreement
6. Enjoy the show!!!
7.  PLEASE POST A REVIEW!
David is a "Performing" Saxophonist, who is not confined to the stage. David is a showman who can dazzle your guests personally!  David currently performs with Platinum Band Atlanta, Atlanta Party Band, South Bay Project Band, & Ross Brown Entertainment. David has also performed with Permanent Vacation Band (Rock, Shag, & Request), The First Class Band, Rich Hippey Band, and has performed with Violinist Daniel D, Beyond The Rhythm Band (R&B, Jazz, & Variety), Carrie McDowell, Ann Caldwell, Liquid Pleasure Show Band, Tony Howard Show Band, Calvin Taylor, East Port Party Band, Ocean Drive Party Band (Beach, Shag, &  Variety),  Shades of Plenty, David Matthews Tribute Band, and was once a member of A Touch of Class Band (Legacy) , Sequence 8 and Secrets of Augusta, Ga, Fire of Statesboro, Ga, and many others. 
  David Does Extensive Solo Work! 
Most Memorable Moments: One night...David shared the stage with ''The Godfather of Soul - James Brown!!!"  Also was once considered to perform on one of James's upcoming singles. In 2014 David performed with violinist Daniel D and was flown down to Captive Island, Fl to perform for a Yacht Club Event.  In April 2015, David provided music for Bravo Network's reality show "Southern Charm" Season II during their Ball & other events.  Actor in a DBD Performing Arts Company play & Saxophonist in the Piccolo Spoleto play "It Aint Nothin' But The Blues". 
If you are planning an event and looking for someone to entertain your guests, David is your man regardless of the size of the event. David is available for Weddings, Church Events, Birthday Parties, Corporate Events, Reunions, Dinners Parties, and more... 
David currently lives in Atlanta, Georgia and is available and willing to travel!